Maybe this is where I let them die.
More audio roleplaying adventures in Dungeon Crawl Classics: Lankhmar!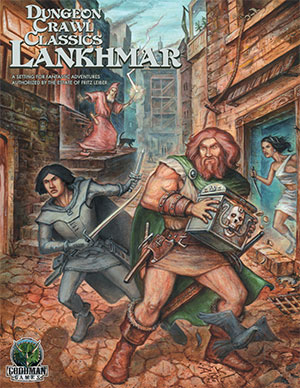 Sunday afternoon is quickly becoming our favourite time of the week, as myself and my old friends Will, Andrew, and Chris enjoy a couple of hours online together playing Dungeon Crawl Classics: Lankhmar. Episode number four sees our heroes finally enter the long-undisturbed inner sanctum of the Temple of Djil and confront its mysteries. Or perhaps they have more to worry about from each other?
The players: Myself (Peter) as Game Master; Will (whom of course you know well from my battle reports) as scrawny thief Ivlis; Andrew as battleaxe-wielding warrior Far-feared; and Chris as blue-clad wizard Teebeedee.
Remember, spoilers! If you want to not know what happens in the introductory DCC: Lankhmar adventure The Masks of Lankhmar, don't listen!
Let me know if you enjoy these audio-only adventures and if you'd like me to keep recording and editing them for you.
Warning: f-words and adult themes!
Making videos takes time and money. If you find them worthwhile, please consider becoming a
Patreon supporter
or making a
donation
so I can continue making high quality tabletop gaming content.
Thankyou!