Madness madness madness!
The final audio roleplaying adventure episode in Dungeon Crawl Classics: Lankhmar!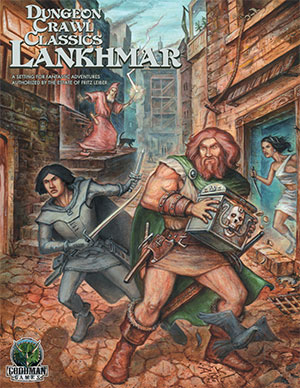 Well folks, here it is, the final episode in this five-part series, and the conclusion of the Dungeon Crawl Classics: Lankhmar adventure The Masks of Lankhmar. It's been fun, and we'll keep playing, but considering the hours it takes to edit one of these episodes, the response hasn't been particularly overwhelming, so I think we'll draw a curtain on this series at this excellent point.
The players: Myself (Peter) as Game Master; Will (whom of course you know well from my battle reports) as scrawny thief Ivlis; Andrew as battleaxe-wielding warrior Far-feared; and Chris as blue-clad wizard Teebeedee.
Remember, spoilers! Remember of course, spoilers for the introductory DCC: Lankhmar adventure The Masks of Lankhmar—and be warned of strong language and adult themes.
I hope you've enjoyed this series. I may make public other small adventures in the future, you never know!
Making videos takes time and money. If you find them worthwhile, please consider becoming a
Patreon supporter
or making a
donation
so I can continue making high quality tabletop gaming content.
Thankyou!