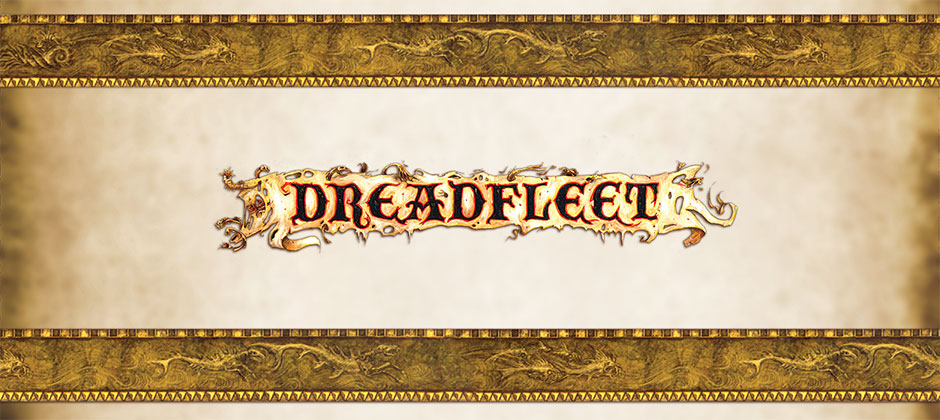 …One must always choose the lesser of two weevils
Splice the mainbrace and clean the poop deck! Dreadfleet sails late into harbour.
Poor Dreadfleet. It could have been so good. Old Man O' War players were quivering with excitement at the announcement of this return to fantasy naval warfare by Games Workshop, but when it was finally released, the disappointment of fans was a groan heard around the gaming world.
Sure, it looks fantastic. The ships are full of character, the gaming mat is spectacular, and it's wonderful to see the John Blanche art throughout; in fact it looks more like something made by a 90s-era GW than the bland output of the post-2000 corporate behemoth. But they forgot to make the game play well. Dreadfleet is a long, tedious luck-fest in which your decisions are meaningless and the draw of a card can undo the work of three hours play. What were they thinking? They already had a great, time-tested game in Man O' War—why not just keep the same damn mechanics?
Sadly, it is rumoured that many copies were recalled and destroyed, no doubt for some ridiculous tax-related reason. Dreadfleet is like the twisted younger brother locked in the castle tower that no one ever talks about anymore, and it seems GW prefers to pretend the whole incident never happened. It's tragic, because if they'd thought about it, Dreadfleet could have been a classic. They just forgot to design a good game before they got carried away with designing the figures.
Just before I moved to New Zealand, I spent an age painting the ships, so felt compelled to bring the game with me, despite the fact it took up so much space in our small air shipment. Then I finally got to play it. I still look at the game on the shelf and contemplate which two, far superior, games I could have brought instead of that big box!
I created this rules summary back when I first got the game, but for some strange reason it slipped between the planks and I never posted it on this site. That error has now been rectified, so if you do ever get Dreadfleet out for a spin—and it does look beautiful—you'll find this summary and reference useful.
Update: v1.1 fixes a slight error concerning broadside die results.