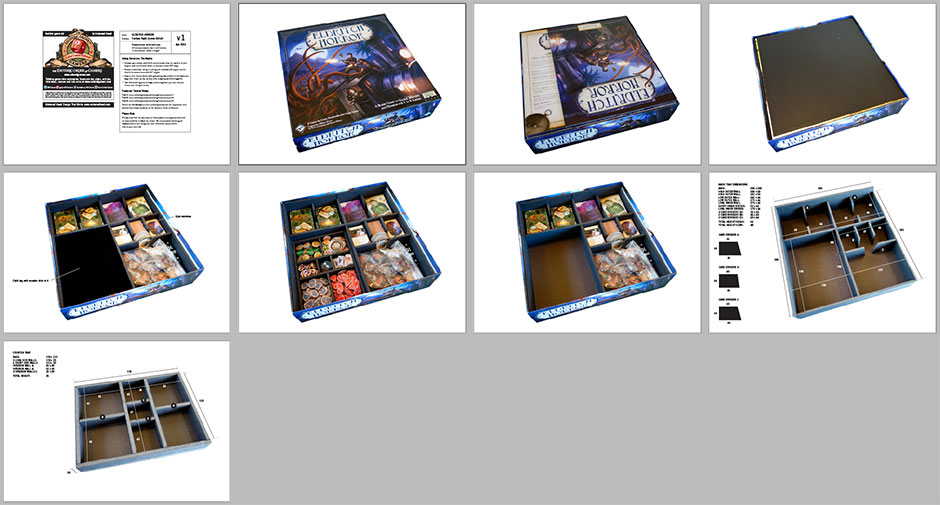 I fear my enthusiasm flags when real work is demanded of me.
Keep the Old Ones at bay with this Eldritch Horror foamcore box insert plan.
Fantasy Flight Games—you make great games, I have many, many of them in my collection, but why, oh why, have you never made box inserts (with the sole exception, I believe, of Fury of Dracula, for some inexplicable reason)? I'm sure they'd insist you get more stuff in the box because you're not paying for one, but I fear my healthy cynicism counters that the money saved goes to them rather than us. It certainly keeps me busy making foamcore box insert plans. And here's another, this time for Eldritch Horror. This design does assume that you'll buy a nice bag to put your monster chits in, but I'm sure you'll agree that's a purchase worth making.
Just a little off-topic tidbit: if you're a fan of the works of H. P. Lovecraft, I highly recommend the H. P. Podcraft Literary Podcast. It's a professional, insightful, informative and often surprisingly funny podcast that is definitely worth listening to, made by some of the guys involved with the brilliant H. P. Lovecraft Historical Society.