Create the legend – weave the myth
Legends of Signum is the other game I received from Ukrainian games company Signum Games (along with Dragon Hunters), and it's the first of what appears to be a growing series of fantasy games with a similar set of mechanics designed to showcase the companies gorgeous miniatures. And what miniatures! More than twenty beautiful resin sculpts came in this set, including a spectacular griffin – I have yet to paint them because I need the time to do them justice, but as soon I have I'll be sure to show them off here and on my social media feeds.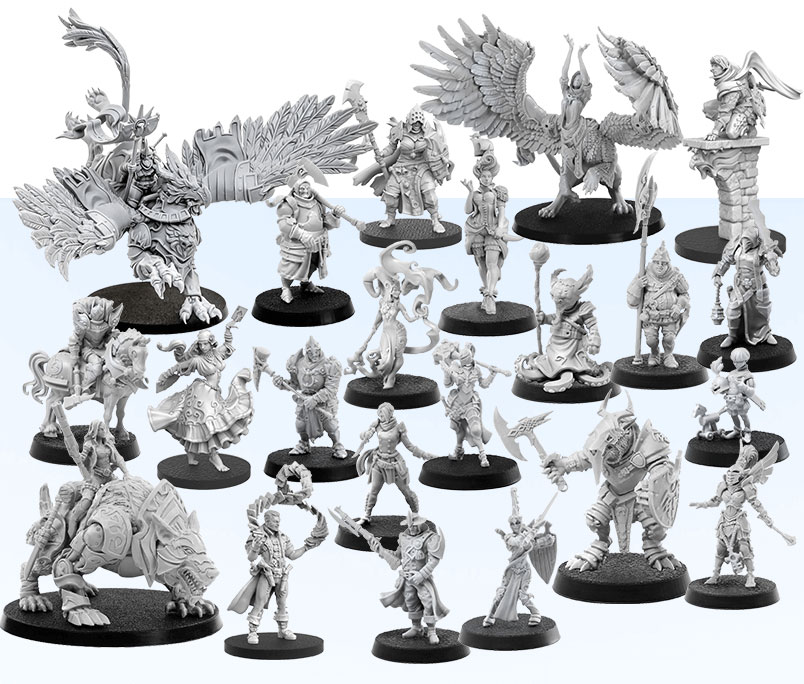 The spirit of Rackham Miniatures is alive and well here, as they have that quirky fantasy personality so much a part of that now defunct company's work. The game itself ain't bad at all either. Like Dragon Hunters, it's a skirmish wargame of sorts with a deck-building element, and the game plays on the same paper mat, with similar artwork and the same tokens. There's a bit more though, because you can build a city using your cards that provides you with the abilities to summon heroes and add terrain cards to the board, which is a lovely touch. The game is primarily a 2 player wargame, but there are also variant rules for 3, 4 and 2 vs 2 team play.
I can't tell you too much about how Legends of Signum: Battle for Vallor plays yet as I'm waiting until I get those miniatures painted up before I get it on the table, but since it shares many of its mechanics with Dragon Hunters, I'm expecting it to be just as fun. The difference here is that every miniature is a unique hero with unique abilities. It should be just the thing to scratch that fantasy wargaming itch without setting up a huge table of terrain and dealing with very complex rules.
Again, this is a tough game to get hold of, so contact the company from their website if you're interested.And by the way, they sell lots of beautiful miniatures on their own as well.