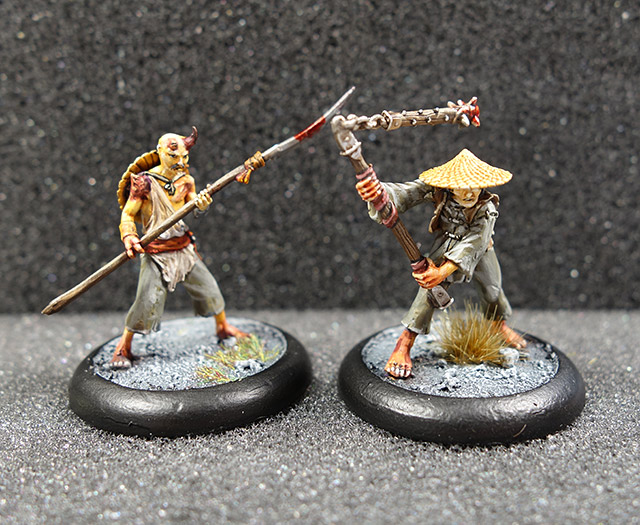 It is as though they were traveling abroad
Starting work on the Hell Dorado Immortals Starter Set.
It's all about miniatures games at the Esoteric Order of Gamers lately, and work continues on getting a couple of small Hell Dorado warbands together for a game. It's now time to move on to the Immortals Starter Set.
This ancient/mythological Chinese-themed faction seems to have spent just a bit too much time in Hell, as many of their figures show signs of turning into human/demon hybrids.
First on display are the two peasant figures that come in the starter set. Both come with separate hats, so you can leave them off if you like for a bit of variety in your peasant groups. They're pretty straightforward paint jobs, with a tiny bit of yellow mixed in with the flesh tones. Again, my new head loupe is responsible for a vast improvement in painting facial detail. I've also just realised I put the bloodstain on the leftmost figure's weapon on the wrong edge. Oh well! It was a vicious backhanded blow, obviously.
By the way, if you have any other questions about any of these paint jobs, feel free to ask in the comments below.
More Immortals next time!