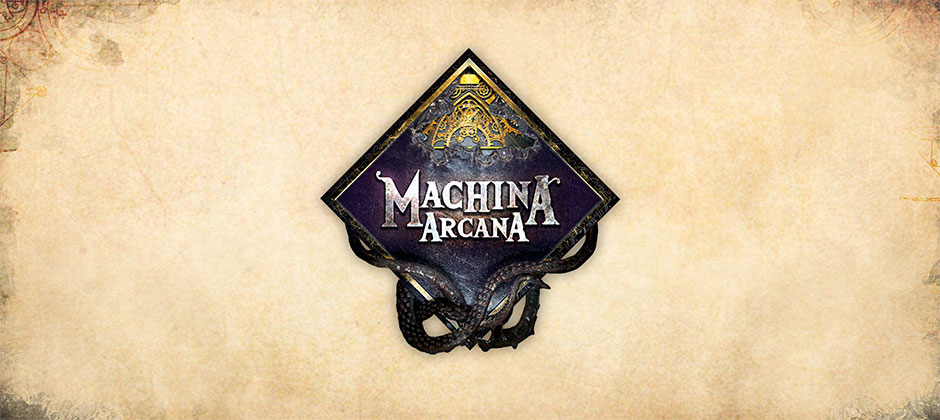 The world is a cruel place. And you'll learn that, even if it hurts.
Delve into dungeons where Lovecraftian monsters dwell with the Machina Arcana rules summary and reference!
I was amused and intrigued when I contacted Juraj Bilić, the designer of Machina Arcana, and asked him for a copy of his game. He has a habit of speaking about his creation as if it's a mysterious, living thing ("…if She speaks to you … and you are able to hear Her…), and no doubt after three editions of the game, it has consumed his every waking thought. But Machina Arcana does speak to a lot of people. It tries very much to be more than just another co-operative dungeoncrawler (a term the designer dislikes); it wants to be an experience. I respect that dedication. And if you go into the game with the right mindset, I'm sure you could have that experience.
So it's not surprising that Machina Arcana is a lovingly produced game, from the gorgeous, gothic monster artwork to the characterful item illustrations to the enticing, intricate map tiles. It's a fresh mashup of Cthulhu Mythos monsters, 90s steampunk goth, dungeon exploration and combat, with a broad brush of storytelling thrown in. And in the main, this adds up to an enjoyable combat-based co-op. The initially complex rules are relatively straightforward once you get to know them, and I love the way you can use elements on the board to affect combats, and collect just the right combinations of items and upgrade and augment them.
Does She speak to me though? Well, sadly, no, though I can understand why many people are so enamoured of this game (and this is not a review, just an opinion after one play). I must confess I have been going off co-operative games for a while now, and this one is long, and I think more suited to solo play, and I'm not much of a solo gamer. It relies very heavily on long slabs of atmospheric text that are certainly immersive, but don't really push the story forward; we found ourselves skipping reading out the text about a third of the way into the game to save time. And in the end, I don't think it lives up to its ambitious aspirations to be a deep, immersive, story-based experience, because when it really comes down to it you're collecting items and killing monsters as you do in any other game of its type.
That said, a lot of people love the game and the designer and his crew have developed a strong following around it. The third edition Kickstarter is going well and every edition sees better production. I definitely recommend checking it out because, especially if you like long, atmospheric solo experiences, Machina Arcana just might speak to you.