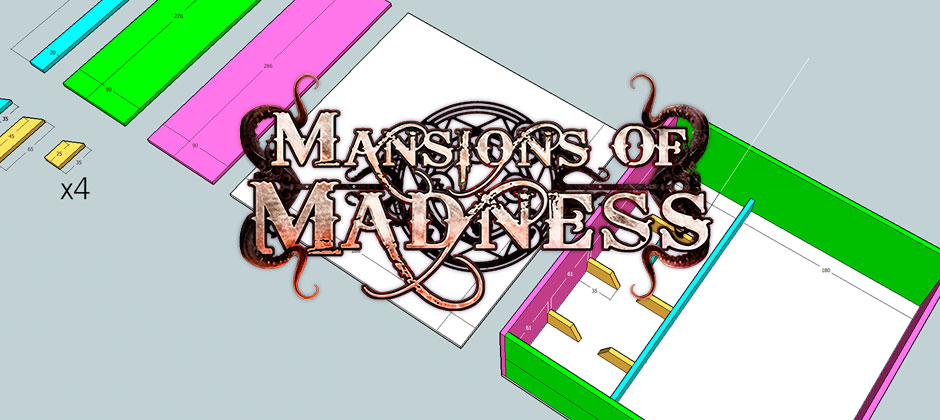 Mansions of Madness—I love its flawed greatness, its atmospheric bits, its very hit-or-missness. It's a game that can fall horribly flat one day, then deliver the most entertaining of boardgaming experiences the next. One thing I don't like about Mansions of Madness however, is organising and storing all the bits.
However, once again the Esoteric Order of Gamers is here, sheets of foamcore, white glue and pins in hand, extolling the virtues of putting in a little bit of effort in return for a beautifully organised box of goodies. Download this set of foamcore plans and it won't be long before you're putting those 'orrible Elder beasties in their place—not to mention all those counters and cards.
Now it's noted on the plans, but make sure that the crosspiece that holds the smaller cards in place is not glued to the box. The idea is that it's a removable piece so you can get to those cards a bit easier.
There's a lot of stuff in the Mansions of Madness box, and it was quite a challenge to design this particular plan. While it works well for me, don't feel constrained to follow it exactly. As you get more experienced with foamcore insert design, you may see opportunities for improving on the plans the EOG supplies—have at it! These designs aren't set in stone—but if you come up with something that you think works well, we'd all love to hear about it.
And finally, remember to always check the measurements before cutting. As much as we abhore such things, these plans are complex to create—and little errors can occasionally creep in like shoggoths in dark cyclopean corridors deep under forgotten antarctic wastelands … sorry, I got a bit carried away with my metaphor there. We'd hate to have you waste any of your precious foamcore.