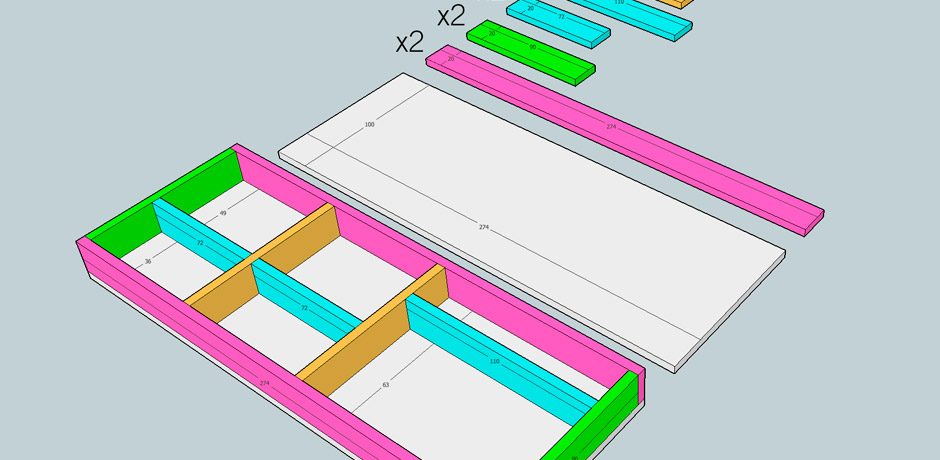 Something I've been doing for quite some time is creating more and more elaborate box inserts for my games using that wonderfully useful material, foamcore. This brilliant construction material—simple a layer of foam sandwiched between two layers of cardboard—is the perfect stuff for building counter and card trays and box inserts. Not only do you increase the rigidity of your game box and protect its components, but with a bit of tricky design you can create trays to remove and use during the actual game.
I've received many requests to create plans for these inserts but always thought it was too daunting a task; especially considering I usually design these things 'on the fly' and so would have to reverse-engineer them. But I've finally come up with a format that I think should make it easy for gamers to replicate my foamcore designs if they wish.
Of course I could have started with a simple one, but instead I've gone all out and made plans for one of the more complex box inserts I've ever made: for Fantasy Flight Games' Merchant of Venus. If you've never used foamcore to build this kind of thing before, you may find this a bit daunting, but believe me, it's quite simple once you get the hang of it.
I'm planning some to make some videos to walk you through the basics of using foamcore, but in the meantime, check out this file and do let me know your thoughts on the format, whether you think it is self-explanatory enough, and any suggestions for future improvements. If enough people find this kind of thing useful, I'll be releasing more plans for other games.
Enjoy! Always be careful with those sharp knives. I'm very much looking forward to reading about the experiences of gamers with these designs.
Update: These plans have now been updated to v1.1.