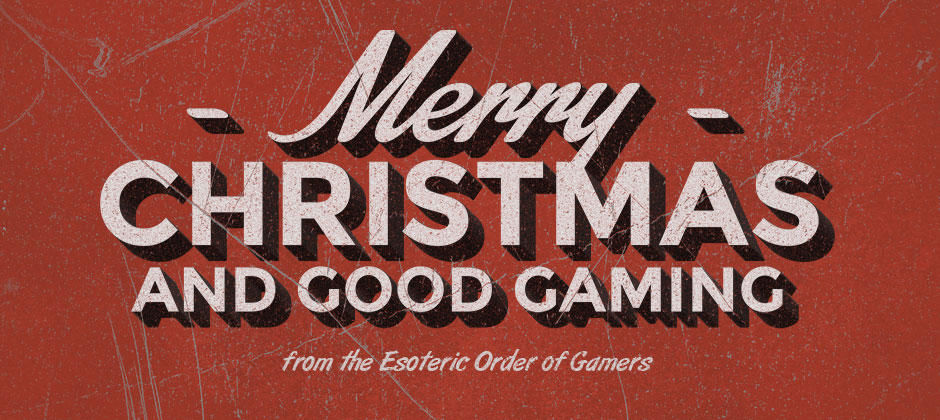 His old life lay behind in the mists, dark adventure lay in front.
Warmest wishes for the holiday season to all my readers and supporters.
The Esoteric Order of Gamers will be taking a short break over the Xmas period—the good stuff will start flowing again about the 5th of January—but I'd like to take this opportunity to thank all of my readers. The site is some 21 months old and is still going as strong as the day it started. There have also been some huge changes over that time, with a completely new design, some interface improvements, and the addition of the forums, which are now frequented by a very friendly bunch of gamers chatting away about the games dear to their hearts.
2014 has been a great year for the EOG. I covered some of our 2014 articles just five months ago on the occasion of our 16 month anniversary (16 months? Don't ask, chicken pox was involved), and since then there have been some other milestones amongst the usual rules summary updates and unboxings: for example reviews of Theseus: The Dark Orbit and Dead of Winter, a 2 part BattleLore 2nd Edition painting tutorial, foamcore box insert plans for Warhammer 40,000: Conquest and Kemet, and lots of battle reports (War of the Ring, Confrontation, Dust Tactics Battlefield, Hell Dorado, and BattleLore 2nd Edition). Then there was the visit to Battlefront Studios in Auckland, and the look back at the long history of Warhammer Fantasy Roleplay. And most of all, I've strived to keep the new articles coming at a regular rate, so hopefully you always find something new and entertaining and/or useful every time you visit.
What's in the works for 2015? More battle reports and lots more foamcore box insert plans for a start. I also plan to finally start getting some Esoteric Order of Gamers promotional items out there so you can all finally wear your allegiance proudly. Of course there are several rules summaries in the process of creation as we speak—Clash of Cultures and Robinson Crusoe to name just two.
As always, I'm always interested in your feedback and what you'd like to see more of (or less of). Even better, sign up to the forums and say hello!
Finally, a sincere and hearty thanks to all those who have supported the EOG with donations this year. I try not to emphasize it very much, but as you can imagine a large amount of my personal time goes into keeping the EOG ticking along, and there are many associated expenses as well. Every donation is hugely appreciated and makes a big difference. Thankyou to those who parted with some of their hard-earned to materially show their appreciation for what I do here.
Good gaming, fellow members of the Esoteric Order of Gamers, and a very merry Christmas and a Happy New Year to you and your families.
Universal Head