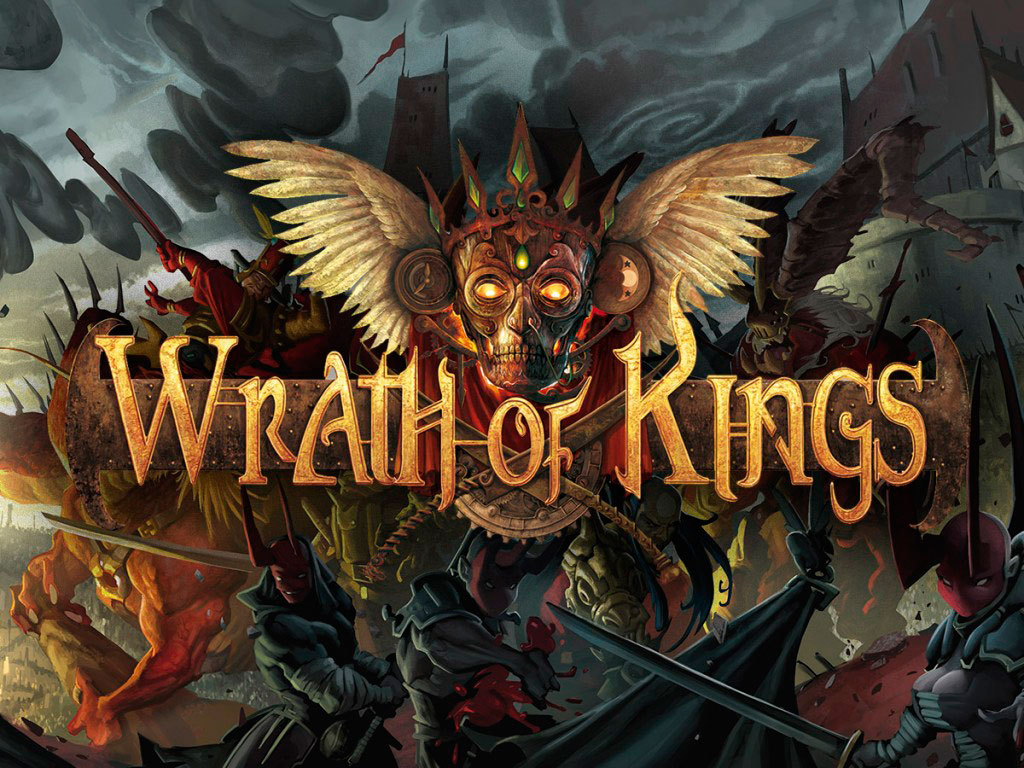 Counting down the days until the Wrath of Kings
Cool Mini or Not's Wrath of Kings Kickstarter campaign has entered its final days, and at the moment it's heading for $450K.
Final Tally: 3,754 backers, $717,962 raised, 218 miniatures for the $200 Ancient King level.
Right up front, let me say that I've bought into this Kickstarter campaign at Ancient King level, so I obviously have a vested interest in seeing the campaign become as successful as possible and lots of stretch goals unlocked. That said and out in the open however, this seems to be a really good value deal, and it's brought up some issues that I think are worth discussing.
Let's start by having a look at what you get for $200 at the Ancient King level. Ready? We'll talk again at the end of this graphic:

Hello again! Not bad huh? No one can deny that is pretty amazing value—way under a buck a figure, and five very thematic little armies.
And yet for some strange reason CMON seem to be copping a lot of criticism on the internet. I find this quite curious, so I entered this discussion on Tabletop Gaming News to get some insight on why such ire is reserved for a company that seems to be offering pretty good deals.
Now I can only speak from my own experience, but I bought into Sedition Wars, and despite a few issues, I'm very happy with what I received. Yes, the boards are a bit dark and could warp. I did what I always do with warping boards, which was to put them under some heavy books for a while, and that did the trick. Yes, the rules need some work, but I've played the game and enjoyed it. Yes, the plastic is not Games Workshop-level quality and they were a bit fiddly to put together and clean up, but we are not paying anything like the exorbidant prices that GW charge. In the end, you can see for yourself the miniatures painted up well.
These are miniatures for a boardgame, not display pieces to be entered in painting competitions, and I think here lies the problem. Some people seem to expect competition-level quality from plastic miniatures that, in the case of Wrath of Kings, are costing them less than a dollar each. This is patently unrealistic. These are gaming pieces. If you want miniatures that you can paint to an exceptional standard and display in competitions, buy yourself a $10-$30 metal miniature and go to town. But don't expect low cost plastic miniatures to hold detail and clean up perfectly to the kind of standard of resin, metal and more expensive hard plastics.
To me, this just goes back to the same principle: keep your eyes open when you buy into Kickstarter campaigns. Engage your critical thinking muscles. If a publisher is a first time publisher like Studio McVey, expect some growing pains. Take the marketing with a grain of salt—seriously, anyone who takes marketing spiels as a guarantee of what to expect in life is destined to a life of disappointment. Look at how much you're paying, what you're getting in return and weigh up your expectations.
When I pay $200 and get over 200 plastic gaming miniatures (and a game) in return, I don't expect display-quality miniatures, I expect good miniatures that will paint up well and look great on the tabletop, nothing more. If I can't get at a few mold lines, who cares? If a few joints aren't perfect and I can't be bothered to get out the green stuff, it isn't going to bother me. In the end I received great value for my money, and I can field lots of cool miniatures on my tabletop and play and enjoy the game.
It worries me a bit when I see more and more evidence of a growing sense of entitlement, not only among gamers, but among people in general. No one is forcing you to spend your hard-earned money on these things. No one necessarily owes you a standard of perfection that you have decided is acceptable. You have a certain amount of information at your disposal with which you can make a relatively informed decision. Occasionally, yes, you will be ripped off in life; but in most cases, if you keep your critical thinking facilities sharp and avoid the obvious pitfalls, companies are not out to get you at every opportunity. It just doesn't make good business sense.
So, there endeth the rant. To me, the Wrath of Kings Kickstarter is great value. Sure, I'll be a little frustrated if they do end up relaunching Confrontation, because as big fan of that game I'll probably want to buy into that as well, and the two universes do have a lot of visual similarities. But again, that's an issue I'm fully aware of and have weighed up as part of my current purchasing decision.
Personally, I hope that the campaign goes great guns and even more stretch goals are unlocked. But in any case I think I'm getting a lot of gaming goodness for my money here.
As always, I'm interested in your opinions, but please, keep it civil if things do get heated—I know we're all passionate about our gaming.