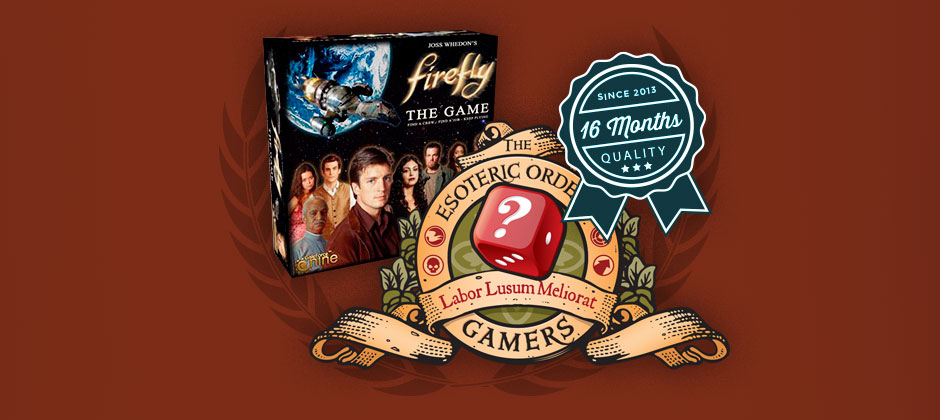 Can't stop the signal
The Esoteric Order of Gamers runs its first giveaway! Win a copy of Firefly: The Game.
Thanks to the generosity of Gale Force Nine (who provided me with an extra copy of Firefly: The Game) and—well, me (who will be paying the postage), the Esoteric Order of Gamers is very proud to announce our first giveway competition thing! Yay!
It's celebration time here at the EOG: the website is 16 months old! Well, I was going to celebrate the one year anniversary, but I was fighting off chicken pox when that came around. Not only has the site had a fresh link of paint, but there are some new features designed to bring you back again and again to this august institution.
First up, the commenting system has been improved. There are new options for signing in via your favourite social media network, plus you can choose to receive email notifications of replies to your comment, or just subscribe to the whole article to follow the conversation. Woot!
It's celebration time here at the EOG.
Secondly, there are new touches and improvements throughout the site: a funkier search function (try clicking that magnifying glass up there), more visual search results, infinite scroll on multiple pages of results, and many other bits and pieces.
And finally, there's a brand new forums section at the EOG, where you can happily chat with like-minded individuals about the kinds of things we all love—games, enhancing games, playing games, and, well, games. Sign up and join in! I'm particularly interested in suggestions for more forum subjects. Things are pretty basic just now, but I'll be adding things like custom avatar and attachments support very soon.
It's all new and dazzling I know, but bear with me when you get very close and spot the wrinkles that are bound to pop up here and there. Rest assured I'm working away behind the scenes with coding botox to iron everything out smoothly. For example, the entire Games page is a heavy load right now, but I'll be breaking that up into infinite scrolling chunks (though now, you can easily switch between the categories of games once the whole list is loaded). And no doubt the forums section will need tweaking as it evolves.
If you have any comments, bug reports, or suggestions, feel free to let me know.
A Look Back at 16 Months of the Esoteric Order of Gamers
Late March 2012 is when it all began, and since that time there have been 173 articles posed on the EOG. Many have been updates of our famous game summary sheets, but we've also had interviews (with the likes of Martin Wallace, Colby Dauch, and Adam West, to name just three); 30 videos (including the Joy of Unboxing series and a 7-part series on Deadzone); 9 comprehensive game reviews (including Spartacus, Bioshock Infinite and A Study in Emerald); a few session reports, how-to tips and plans for making foamcore box inserts; instructions and reference photos for painting your miniatures; hell, there's even been a touch of original fiction.
Time for the giveaway
It's a shiny brand new copy of Firefly: The Game, and it's going to one lucky reader of the Esoteric Order of Gamers.
Now at this point I could register entries to the competition by asking for Facebook sign-ups, or getting you to register with the new forums, or something annoying like that. I was even going to send you on a hunt through the site matching up the article titles with the films and books they come from. But we're all busy people; I'm not going to force you to do anything you don't want to do. We only want dedicated supporters here at the EOG. All you have to do is enter yourself into the competition widget thingumy below, and in two weeks it will spit out a winner. I assure you that your email addresses will be deleted at the end of the competition and never used for any nefarious purpose.
I'll contact that lucky person for their address, and they'll soon be holding their very own copy of Firefly: The Game.
In the meantime, go sign up in the forums and talk to your fellow members. We're all gamers here.
Good gaming, fellow members of the Esoteric Order of Gamers,
Universal Head
[contesthopper contest="4551″]