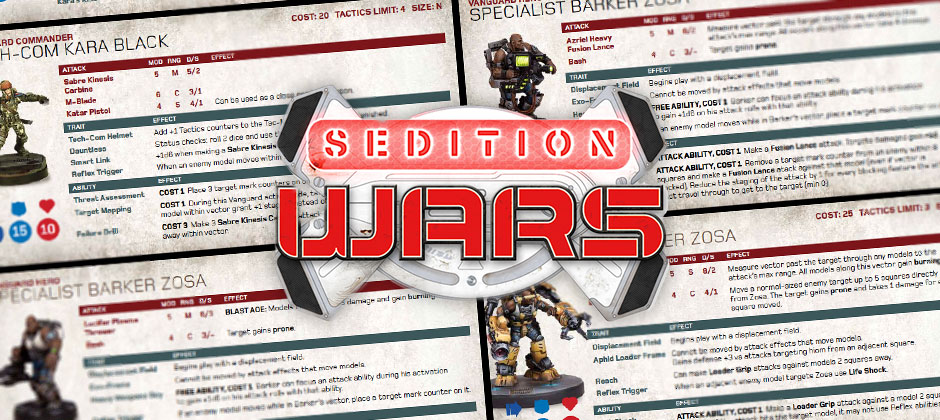 Infinite space, undying terror, very tiny all-caps text
Version 3 of this rules summary and reference features the complete second edition rules and new unit cards for the wave 2 models.
Sedition Wars: The Battle for Alabaster has really been copping a lot of flak online, and while Studio McVey's debut effort has had some problems, I think things have been blown completely out of proportion. I can't comment on the issues some people have had with Cool Mini or Not customer service, since my copy arrived without any problems; but the rules were certainly somewhat under-baked on release, as evidenced by some of the drastic changes made in the second edition rulebook.
Because of the revamp I've now created this rules summary and reference—which includes completely redesigned tactical unit cards—twice. But here's hoping they'll only be the occasional small update from now on. This version 3 not only comprehensively updates the rules summary, but I've added all the new cards for the wave 2 models that were recently shipped out to Kickstarter backers.
So now you have this summary, give Sedition Wars another try. My figures have painted up beautifully, and the game really is a lot of fun once you get it on the table. Personally I found the original unit cards extremely hard to read, so these new larger cards should improve the experience quite a bit (plus you don't have to flip them over to reference traits and abilities). I recommend printing out one for each unit type, then keeping track of wounds by placing tiny red and green dice next to the models themselves.
By the way, this was a pretty fiddly and complex project, so if you discover any errors let me know and I'll fix them right away.
Now go get infected!
Update: v3.1 (incorrect images for crush, corpse and civilian tokens fixed).
Update: v3.2 (changes in the latest errata implemented).