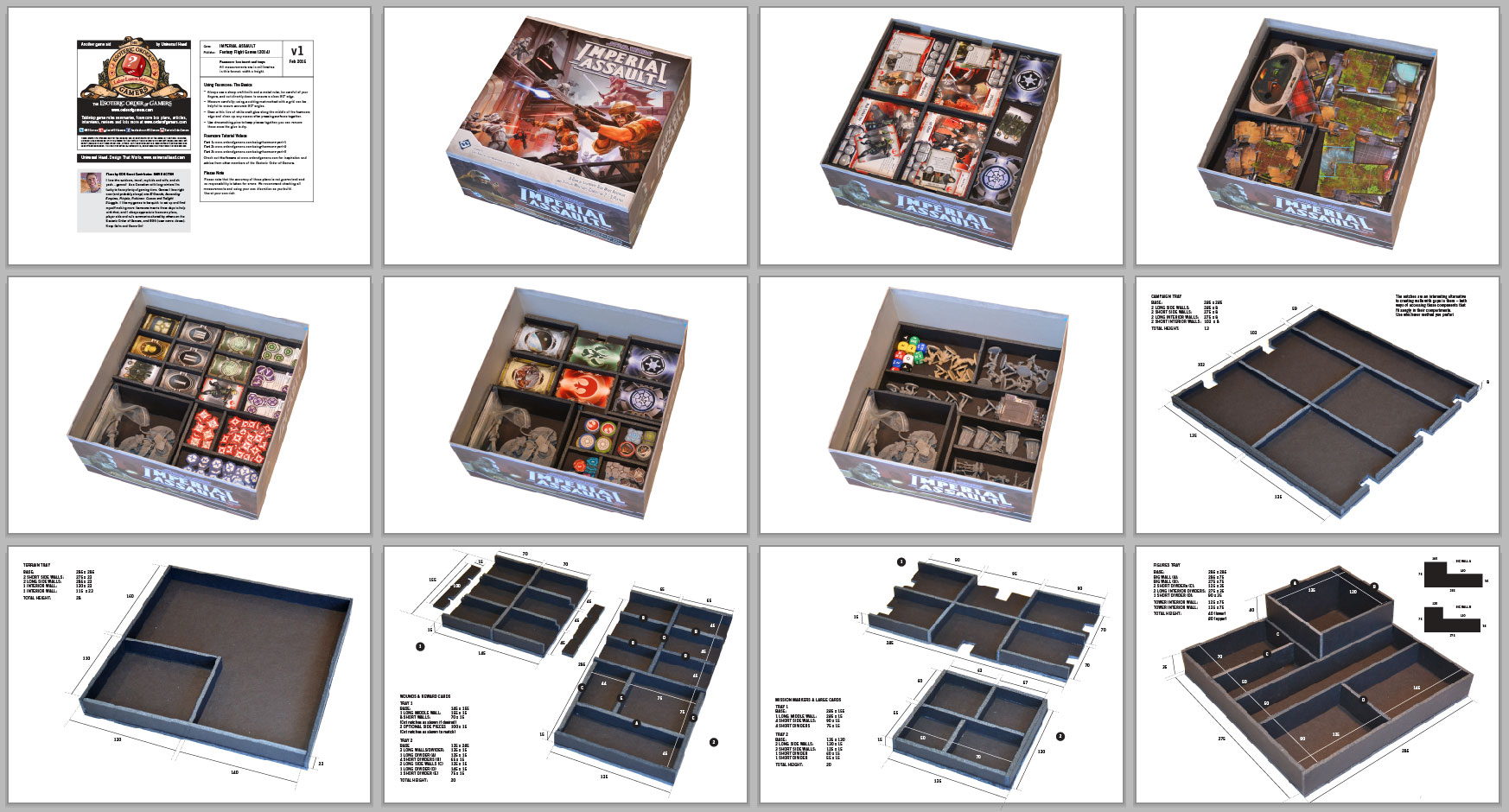 I assure you, Lord Vader. My men are working as fast as they can.
Our first guest contributor is David Acton, who has created foamcore box insert plans for Star Wars: Imperial Assault!
Guest Contributor: David Acton
I love the outdoors, travel, my kids and wife, and oh yeah… games! As a Canadian with long winters I'm lucky to have plenty of gaming time. Games I love right now (and probably always) are El Grande, Ascending Empires, Ninjato, Robinson Crusoe and Twilight Struggle. I like my games to be quick to set up and find myself making more foamcore inserts these days to help with that, and I always appreciate foamcore plans, player aids and rule summaries shared by others on the Esoteric Order of Gamers, and BGG (user name: davea). Keep Calm and Game On!
It's an exciting day here at the EOG, as we welcome our first guest contributor. David Acton has created a stunning bit of foamcore box insert design for Star Wars: Imperial Assault, and I'm proud to have it join the archives of the Esoteric Order of Gamers.
I've gone back and forth on the subject of soliciting contributions to the EOG; on one hand, I would love to share some of the workload and expand upon the range of fun stuff available here, and on the other, I'm a relentless perfectionist who wants everything on this site to be of as high quality as possible. So it's a demanding job being an EOG contributor, the least requirement of which is to be able to put up with extended pestering from yours truly!
David rose beautifully to the challenge however, and enthusiastically joined with me in adapting his plans to the EOG format: taking photos, supplying a plan, and checking and re-checking this file in order to make it the best it can be. Unfortunately, I don't yet own Star Wars: Imperial Assault, so I haven't yet built this insert. But I'm sure David would be interested in your feedback and comments. Let's make him welcome, and thank him for this wonderful contribution to the EOG archives!
Update: v1.1 makes some small fixes to the bottom figures tray.