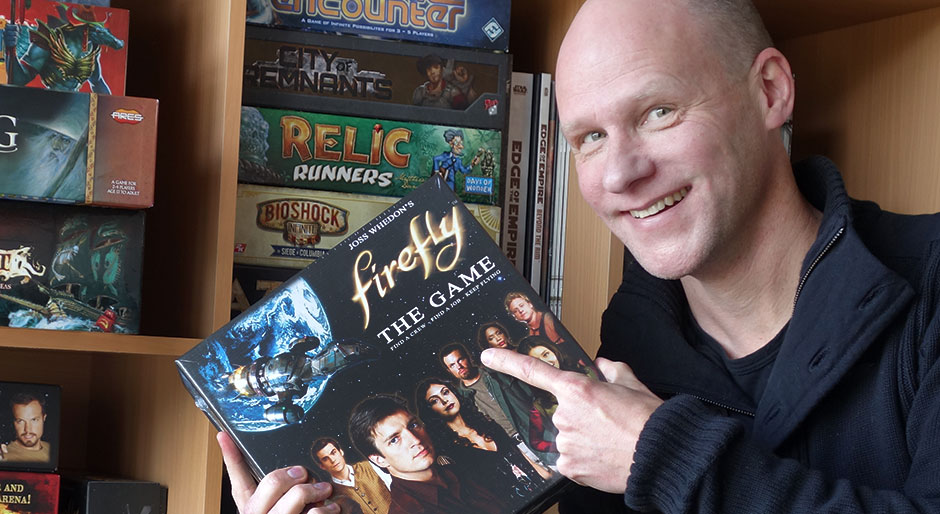 We've done the impossible, and that makes us mighty
Sarah Brennick walks away with a shiny new copy of Firefly: The Game.
The entries—all 1296 of them—are in, and a winner has been randomly chosen! Let us all raise our glasses to Sarah (Skyshadow38), who was the lucky winner. Hi Sarah—that's me in the photo above (with, for some reason, a slightly manic gleam in my eye), with your prize!
It was very satisfying to see so many entries in the competition and so much interest in the new site. Many thanks go to the wonderful folks at Gale Force Nine (check out their new game Sons of Anarchy: Men of Mayhem) who provided the prize, and thankyou to everyone who entered—and tweeted, re-tweeted, posted and generally spread the word about this little giveaway. Hopefully we'll be able to run more of them in the future!
About the Winner
Sarah was kind enough to tell us all a bit about herself:
My gaming preferences are a bit all over the place. I was asked what my favorite game style was, and I couldn't answer, although I do find myself playing a lot of worker placement games lately. I like cooperative and competitive games equally, although I cringe whenever I am the traitor in those cooperative games with that element, as I am the worst bluffer ever and more than not I get caught. I've fairly recently started painting some of the games that I own, and even though it takes me a really long time to finish one, I may eventually paint all of them because I think it really stands out. I work from 8am to midnight Monday through Friday, so Saturday night beer n' boardgames with my friends is my favorite way to relax and fully get out of "work mode." I enjoy videogames as well, but overall I greatly prefer sitting around the table with my friends to unwind.
The Pair of Dice Paradise podcast is where I learned of your website. A collection of reference sheets all in one organized place sounded like a great resource, so I checked out the site, and initially the page did not work because I think it was being redone, but I tried again the following week and was really impressed by how many games were on it. So far I have gotten the most use out of the 7 Wonders and Eldritch Horror sheets. I teach/demo board games at a local comic shop, and the sheets have been great help with making it easier for newer gamers to acclimate. I have also found your foamcore video on YouTube very educational and might give making my own insert a whirl!
Thanks Sarah—I'm so happy the prize goes to such a worthy winner. Have fun exploring the 'verse!
Site Update
Tweaks and fixes are continuing behind the scenes to make the site as easy to use as possible. The Games page now loads the entire collection of games in lots of 30—just scroll down to the end of the page to load the next batch. At any time you can click the sorting buttons at the top to sort them by type or genre. The first 8 games are the most recent to join the collection, but after that games are sorted in alphabetical order.
Remember, each game page or article has its own social media buttons at the top, but you'll also see a little heart symbol here and there—that's just a little way to let us know you like the article, a kind of EOG 'like' button.
The new forums are welcoming new members all the time. Join up and add your voice to the discussions! There are several rooms hosting various general topics of interest, but if you have an idea for another room, let us know in the Reception Hall.
As always, at the Esoteric Order of Gamers knowledge is free. I hope you won't object to a small reminder, however, that there's a little Donate button on each page—please do consider a small $ donation when you find something useful or entertaining. In this way you help me continue to keep the Esoteric Order of Gamers operating and bringing you incredibly useful stuff to enhance your tabletop gaming! Oh, and fund the damp-proofing of the subterranean chambers of the six hundred year old clubhouse in central London …