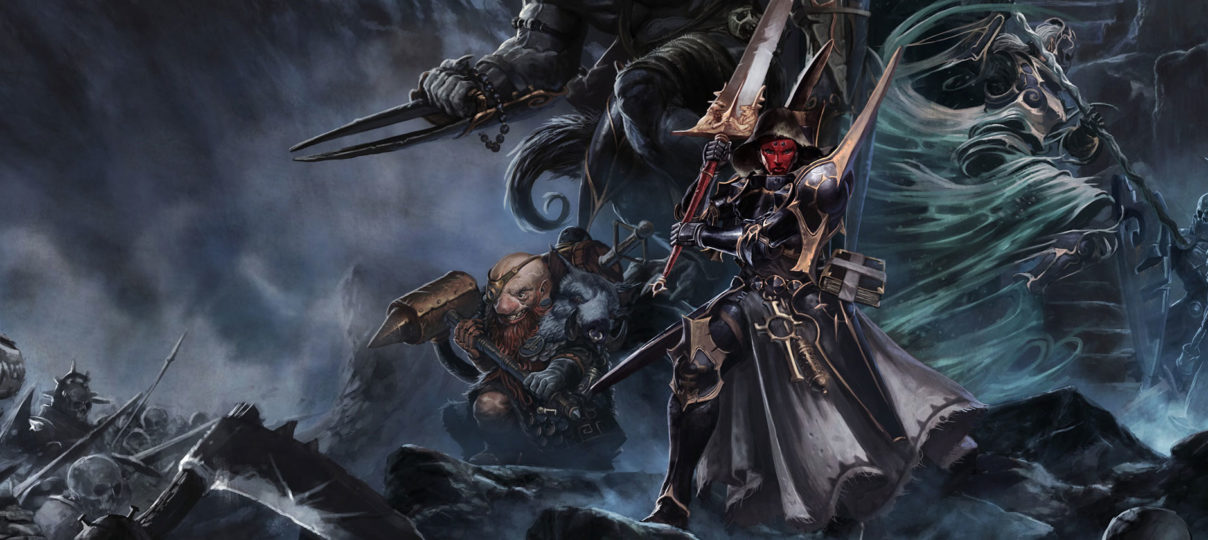 Another world, another time, in the age of wonder.
Universal Head interviews Josselin Moreau, product manager at Sans Détour, the company that's finally bringing Confrontation back to tabletops.
For some years now the EOG has been one of the few gaming websites on the internet still talking about Confrontation, the fantasy tabletop fantasy wargame by Rackham, who sadly went out of business back in 2010. I discovered the game – and bought myself huge armies of both plastic and original metal miniatures – when the 4.0 version of the rules were released (known as Confrontation: The Age of the Rag'narok), but it had been going strong as a skirmish-level game for years with the v3.5 rules, especially in Europe. It's those rules that are about to be re-released by Sans Détour, along with a huge swag of beautiful miniatures. Universal Head spoke to Product Manager Josselin Moreau about the long-awaited return of Confrontation.
UH: Congratulations on achieving what so many have been waiting so long to happen – the return of Confrontation! Full disclosure, but I've never played the 3.5 rules of Confrontation, and first discovered the game with the 4.0 Rag'narok rules and the pre-painted minis. Why did you decided to relaunch 3.5 and not 4.0?
Well, for us Confrontation has always been about being the best skirmish game in miniature gaming. So we want to bring back this feeling of a fast and dynamic skirmish game. It's why we chose the latest skirmish rules set, Confrontation 3.5, and why we will develop a new skirmish rules set for Confrontation Resurrection.
Confrontation Classic launches on Kickstarter on April 17, 2018. Confrontation Resurrection will launch in 2019.
UH: Are there any plans to ever create a massed battle version of Confrontation, or to update the 4.0 rules? I've always though there's an opportunity in the market for another fantasy massed battle game alternative…
We have many plans for the Confrontation universe (miniatures games, a roleplaying game, board games…) and a mass battle version could be on the table at some point. Right now a skirmish miniatures game is our first step. We'll see in the future what could be the next steps.
UH: Are you making any changes at all to the 3.5 rules with this release?
Not really. Still, we will provide some brand new profiles designed for the game such as Ashan Delerith and the Unstable Gargoyles (exclusive bonus miniatures you can get by reserving your copy of the new game – see the end of this article for more details) and some others. But basically it's the same rules.
Confrontation Classic will include the best-playtested and most popular Confrontation rules: v3.5. Also included will be rules for experience and a campaign mode (ie, those from the Dogs of War expansion).
UH: I'm interested in the thinking behind releasing the miniatures with the classic rules, and then later creating a whole new set of rules. Is it just a matter of players having the choice between new rules and old? What can you tell us about the way the two Kicksarter campaigns work together, and the later Confrontation Resurrection set of rules?
Confrontation Classic is really about celebration. It's the 20th anniversary of Confrontation this year and we really want to show off the game and the universe, so people can see what this legendary game is all about. So this Celebration Box is about (re)discovering the game (especially if you just heard about it but never played it), reviving the communities and gathering players together again, and creating a solid base for players (old and new) to jump into Confrontation Resurrection with a wide range of minis.

Discover Confrontation!
Download the Confrontation Discovery Kit, the perfect introduction to Classic Confrontation. Features information about the world of Aarklash, its history, nations and factions, the game, and the company that's bringing it all back.
UH: The old miniatures are wonderful, but will you be creating new ones? Will some of the old designers, artists and sculptors be returning to work in Aarklash again?
Of course! Confrontation Resurrection will be a new game with new miniatures, and the universe will evolve. And we are in contact with formers artists from Rackham and we hope that many of them will be part of the resurrection of this wonderful universe.
The Confrontation Classic box will contain 16 factions (178 unique miniatures) and 2 Battle Sets (enough to set up 2 simultaneous games, or one 4 player game). This will be enhanced with all the stretch goals and bonuses unlocked during the campaign: miniatures, terrain, and other game material. Some stretch goals will be available separately, as add-ons. All of the stretch goals will unlock miniatures which will automatically be added to the contents of the box.
A Battle Set contains all you need to prepare your battlefield: a game map and a set of terrain. The terrain pieces will be designed by Thierry Husser, once a member of the Rackham Studio; I've reviewed his wonderful terrain pieces here.
Also, the Battle Set will be available as an add-on, so you'll be able to play from 2 to 4 players, all the way to 16 players with the same basic box, simply by getting extra Battle Sets (very useful if you're a gaming club or a convention and want to hold tournaments).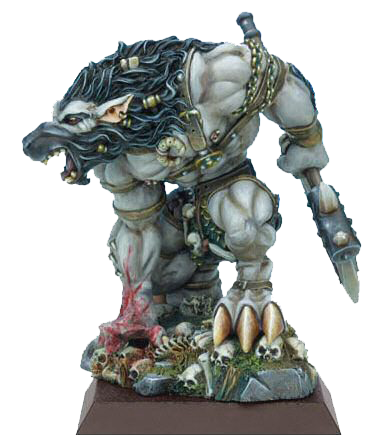 UH: 178 miniatures in 16 factions in a single box, Thierry Husser's wonderful terrain, maps, stretch goals – it's an impressive and ambitious campaign. How did you choose what to put in and what to leave out?
For sure it's an impressive box! But so is the Confrontation range! Imagine: more than 1300 minis were produced by Rackham. Here, we are just offering a small part of this legacy (and still we are frustrated because we feel it's not enough!) In fact it is the only way for us to offer all the factions developed by Rackham. If we had to stick to the best sellers, half of those factions wouldn't be available… as we want to celebrate the whole universe it makes sense to bring back all factions.
Sans Détour have put a lot of thought into this selection, choosing the most attractive miniatures that are also the most representative of their particular faction. Also taken into account was the style of gameplay unique to each faction and the variety in which they all work together in interesting, yet balanced, ways. Votes on their Facebook page helped them make the the final decisions. By the way, every miniature will be playable with the rules for Confrontation Resurrection, coming in 2019.
UH: What kind of plastics are you using? Will there be any danger of bendy spears and the like?
We know it's a matter of concern for the community. And it's something we really care a lot about. We are gamers as well as publishers, and when it comes to the quality of our products, Confrontation deserves only the best. We are working hard on this particular subject, with some of the best and known manufacturers to offer the best quality possible.
The miniatures will come unpainted (as did the original metal Confrontation miniatures), and the box will come with both round and square bases so you can base your figures in the way you prefer.
UH: I notice the graphic design style of the original game is unchanged. Is this just for Classic, or will this style continue for Resurrection?
Well, our graphic designer will be glad to know that you think the design is still the same! He worked hard to make sure the original design of Confrontation was preserved. The design for Resurrection is going to be a bit different though.
UH: Talking about graphic design (I'm a graphic designer), there were some readability issues with 3.5 – very tiny type reversed out of dark backgrounds, and difficult-to-read icons. Have these issues been addressed?
We have that in mind indeed. We know that icons were sometimes a bit difficult to understand… In fact Confrontation: Age of Rag'narok was better designed. We will make sure that Confrontation Resurrection offers a nice compromise between graphic identity and "gaming comfort".
UH: Another issue with the old Rackham was some poor translation work. Are you doing anything to ensure the rules are well translated to English (and presumably, to other languages)?
We have now a professional translation team (luckily, not me!) with a native English proofreader and we will make sure to provide the best material. We will also most probably offer an open access to Resurrection before releasing it so that the community can contribute to the final rules. And make sure there aren't any misunderstandings.
UH: Are there any other plans for other Rackham properties such as Cadwallon and Hybrid? Or other new games?
We have many plans for this unique and wide universe. An RPG is a sure thing – Sans Détour is an RPG publisher after all. Boardgames too… for now, Confrontation Classic is a start and Resurrection will be the next step.
Confrontation Classic is really about celebration. It's the 20th anniversary of Confrontation this year and we really want to show off the game and the universe.
UH: Finally, what is it that you think is special about these miniatures and these rules? Old players will probably get on board right away, but what is it about the game that you think will attract new players and collectors?
I can't really be impartial as I am a big fan of the game and its universe. For me the first thing is the depth of the universe. So many things were developed, giving life to an amazing medieval fantastic world.
As for the game: for me it's the feeling of this fast paced skirmish game. The activation, the many choices we had (when preparing your army and then in game) combine with beautiful miniatures… I played almost every faction just to have a taste of what each had to offer (told you I'm not impartial!)
In the end, I never really found anything like that in other games I played.
UH: Good luck with the campaign Josselin, and thanks for talking to the EOG!
My pleasure!
For more information of the Confrontation relaunch, check out the Confrontation Resurrection Facebook page, or visit the website and signup to the Aarklash Post newsletter.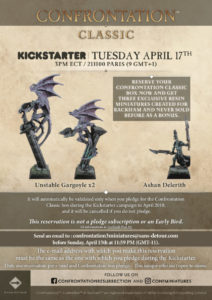 Free Miniatures!
Sans Détour are celebrating the lead up to the Kickstarter launch with a special promotion. If you reserve your Confrontation Classic event box now, you also reserve 3 exclusive bonus resin miniatures, with an estimated value of more than 30 euros. Just send an email to confrontation3miniatures@sans-detour.com before Sunday, April 15th at 11:59 PM (GMT-11), specifying your family name and given name in your mail.
This reservation is not a pledge subscription or an Early Bird, and it isn't open to stores. It will automatically be validated only when you pledge for the Confrontation Classic box during the Kickstarter campaign in April 2018, and it will be cancelled if you do not pledge. The email address with which you make this reservation must be the same as the one with which you pledge during the Kickstarter. In case of doubt, send a second reservation email with the right email address. Only one reservation per email and Confrontation box pledge.
These 3 miniatures are bonus exclusives, designed by Rackham, but never released. They will not be available after the start of the Kickstarter campaign, or via stores! They are are 2 Unstable Gargoyles, bound to the Limbo of Acheron, and Ashan Delerith, a stateless character, playable by all factions. The 3 miniatures will be shipped to you as a bonus with your Confrontation Classic box.
The reservation offer ends on Sunday, April 15th at 11:59 PM (GMT-11). After that date, reservations will still be open, but you will no longer benefit from this bonus.
Become a Bounty Hunter
Register on the Confrontation website as a Bounty Hunter, and by promoting the campaign on social networks you can earn ESD ('Editions Sans-Détour'), a special currency you can later exchange for items during the Kickstarter campaign. Original art is also up for grabs! Check out Issue #6 of the Aarklash Post for full details.
Confrontation Resurrection
The Confrontation Classic Kickstarter campaign is the prelude to the great return of Confrontation and many other projects set in the same universe. The first of these will be Confrontation Resurrection, the setting of which takes place after Rag'Narok. Writing has already begun on this new version of the game. It will also be a skirmish-level game. No faction will disappear – you'll be able to use your favorite armies, though they're not going to reveal how any of them have survived the cataclysm just yet… All of the miniatures from the Confrontation Classic Kickstarter will be compatible with Resurrection and will have their profiles ported to this new edition. All of the rules will be re-written, in order to match modern gaming styles. You'll be able to play with all of your factions using both the historical rules and the new rules they're currently writing.
According to Sans Détour, this is really a project aimed at the future and the basis from which they will be developing other projects: expansions, boardgames, roleplaying games, and more. The great thing is, your miniatures will be usuable in all these games!
The Kickstarter campaign is here.
The Confrontation Classic Miniatures
If you enjoy this article, please consider becoming
a regular supporter of the EOG
. Your generosity means I can keep making great gaming stuff that improves your tabletop game experiences.
Thank you!