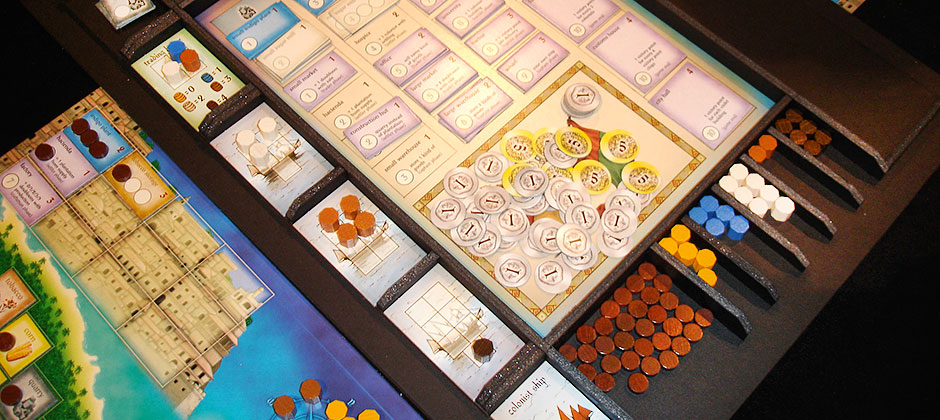 If you are in harmony with the ideals of the Order, you may have discovered that if you take the time to put a bit of extra effort into preparing your game sessions, the result is more enjoyment. Here's a miscellaneous collection of ideas to take your gaming to the next level, ideal to consider when gaming has gone beyond an occasional diversion and become a full-blown hobby. You might not be quite as obsessive as we at the Order, but you might find something here to increase your fun factor. We'll be discussing all of these points at greater length in the articles to come.
Setting Up the Session
If you've invited some people around for a game, why not make the effort to really make the evening something special. It's a bit like holding a good dinner party; a bit of pre-preparation can make all the difference and makes your guests feel like you've gone to some trouble to ensure they'll have a good time.
For some years now I've been using the same large piece of black felt-like material to cover the table every time I play a game. This may seem unnecessary, but you'd be surprised at the many advantages of covering your playing surface in this way. For a start, the material gives the game board and components an even, black backdrop. With your average game a riot of differently designed and coloured components, this can actually make the game easier on the eyes and easier to play. In addition, the felty surface 'grips' the board, cards and counters a bit, so pieces don't go moving about, cards are easier to pick up, and dice don't tend to roll off the table. And finally, it shows off the game to best advantage, giving the game session a sense of occasion.
Whenever possible, set up as much of the game before your players arrive. There's a lot you can do before your players sit down to make sure you maximise the playing time you have. Many games make their rules available in PDF form online; make sure everyone gets a copy a few days before you play so they can read them, and cut down on a lot of time-wasting rules explanations. Even better (with all due modesty) check here at the EOG for a rules summary and reference sheet. They're great for sending to friends before the session, and for printing out—I laminate them and store them with my games—so you have them available during the game for any quick rules checks. Or you can load them on your iPad. And reference sheets can be provided to all the players so they have a reminder of the sequence of play. It certainly beats continually leafing through a 24-page rules book …
If there are any pre-game choices to be made, like picking a game scenario, make them before the actual day so you can sit down and start playing as soon as possible. Set up all the components of the game so it's all ready to go when your players walk in. I often use small glass recipe ingredient bowls to hold groups of counters. Don't forget to provide coasters for drinks, and bowls of nibbles. All kinds of extras can be used to make the game easier to play—try using the card holders from Memoir '44 in other games, for example, or invest in a dice rolling tray (I found one in a Yahtzee dice game) or dice tower.
Atmosphere
One of my most memorable game sessions was my first play of the Days of Wonder game Mystery of the Abbey. My girlfriend and I were staying at a weekender in the Blue Mountains one winter with another couple, and we set up the living room with candles, lit a fire in the fireplace, and put on a CD of Gregorian chants. Our friends were led into the room to discover the game all set up and the room it by firelight, with monks chanting in the background. It certainly put them in the mood for an evening of murder and mystery at the medieval abbey!
So give some thought to the ambience of the room if you're playing a game with an immersive theme. Obviously background music is an important choice—perhaps a bit of The Lord of the Rings soundtrack if you're playing War of the Ring, or some early jazz if you're solving the murder in Mystery Express. Some games even lend themselves to sound effects. Check out the App Store for your mobile device to see if you can find sound effect apps for your game. So when you unload your assault cannon at the genestealer in Space Hulk, don't just imagine it—play the sound effect!
Food and drink can be themed appropriately. We once had an excellent game of Fury of Dracula while fortified with good quality cognac. Perhaps mead with Shadows Over Camelot, or tankards of beer with any number of pirate games?
As already mentioned, lighting can be important too. Try turning off the main room light and illuminating the game area with a desk light or two, or perhaps candles instead—good for creepy games like Betrayal at House on the Hill and Arkham Horror. You might even want to colour your lights for that blue undersea atmosphere (Reef Encounter?) or weird sickly green feel (anything with Cthulhu in it)!
Playing the Game
There are a lot of way to approach playing a game—you can sit there in your own world concentrating on strategy and ignoring the other players, or you can immerse yourself in the theme and keep the evening lively and sociable. Personally we at the EOG prefer the latter… To me, in-game banter is a big part of the enjoyment of playing a game. If you're playing a combat game and you roll to hit and kill your opponent, don't just say "I kill your guy". Say "the marine desperately manages to get off a hail of fire, peppering the lurching zombie with holes and cutting it in two halves which both twitch and reach for him before lying still." Stand up and jump about a bit, play out the moves, get in character, throw in some sound effects—get into it! Some people may even care to dress up, though that's taking it a bit far, even for me…
Caring For Your Games
Now that I've given you some tips on preparing and playing your games for maximum enjoyment, here's some information on a subject that's dear to the Order's heart—taking care of, and improving your games. Let's face it, the things aren't cheap, so why not put in a little bit of extra effort to take care of those boxes full of plastic and cardboard, and ensure they will be supplying you and your friends with many hours of enjoyment for years to come?
First, let me introduce you to that wonder of wonders, miracle of miracles—foamcore. This excellent material is probably one of the most useful things in the gamer-slash-hobbyists arsenal, and has myriad uses. One thing I do when I buy a new game—unless the game already has an insert that I feel can't be improved upon—is build a foamcore insert for the box. This not only keeps all the components easily accessible, organised, and in good condition, but it reinforces and strengthens the box, increasing the game's life. It's incredibly easy to create these inserts by cutting pieces of black foamcore with a metal ruler and a hobby knife (watch those fingers!), and gluing them together with white hobby glue. You can stick pins in the joins to reinforce them while they're drying.
Foamcore is so easy to use that you may find yourself making all kinds of trays, component holders and game accessories with it. The photo at the top of this article shows my custom-made Puerto Rico organiser. From card holders to intricately designed component dispensers, foamcore is the game hobbyist's friend.
We hope to have some plans for quickly and easily building your own foamcore masterpieces available at the EOG soon.
When storing your games, it's generally accepted that it's better to keep them horizontal rather than on their side. Not only can pieces be damaged by falling into a heap on one side of the box, but over time, even thick boards can warp if sitting at an angle within the box. Another reason why foamcore inserts are a good idea, as they keep the box rigid when you're stacking them on top of each other. In any case be careful not to put a small heavy game on top of a large one, as it may damage the box lid.
Moisture is of course your enemy if you have a good games collection, so be careful that your storage location shows no signs of damp. Older games can benefit from having a few desiccant sachets thrown into the box to soak up any excess moisture.
Finally, if you're really obsessive, you can try something that is easy to do and is surprisingly effective at improving the look of your game—blacking the edges of your counters. This involves taking a permanent felt chisel tip pen, and running it around the edges of your game counters (and some boards). It works best with dark counters of course, but it can turn a humble cardboard counter into something resembling a tile or wooden piece. Coupled with your black gaming surface, your game now looks one hundred percent better!
OK, by now you're probably thinking that we at the EOG are too obsessive about storing, improving and playing games. And indeed we are—that is in fact the entire point of this website! But it all comes down to being able to grab a game from the shelf and have it ready as fast as possible for maximum gaming fun. The game looks great and is in perfect condition, everything is easily to hand, you can read the rules summary to get playing quickly, and your game session is sure to be a huge success.