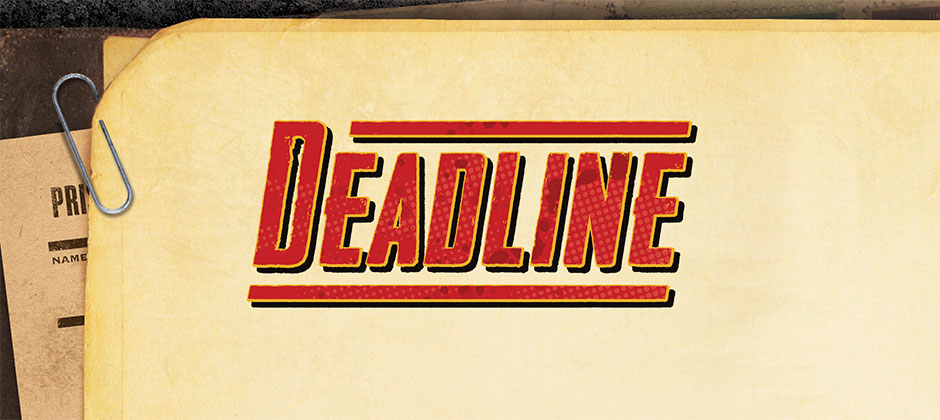 Go back to Jersey, sonny. This is the City of the Angels, and you haven't got any wings.
Walk the mean streets and crack the case armed with the Deadline rules summary.
Adam West of Crosscut Games is one of those people it's been a pleasure to get to know as I have become more involved in the game industry, and my work on his excellent game Ninjato one of my more satisfying and creative jobs. So I was happy to get involved on his new project Deadline, which was originally concieved as a full boardgame. I designed the logo, the front cover layout (adding a well-thumbed magazine look to the stunning illustration by Glen Orbik), and the rulebook background, but it was a long time before I saw them in print because Deadline eventually came out in a very different form, as a card game.
It packs a lot of punch for a card game however, effortlessly blending a fun symbol-matching mechanic with actual stories of – well, lust, greed, envy, and revenge. There are twelve sealed stories (packs of cards) in the box, and while they're one-off games, I'm sure they'll be more released in time (and actually, there's only a small percentage of my games I've played more than twelve times!) Pulp detective thematic goodness positively drips out of this compact box, and it's definitely a game to add to your collection.
If you enjoy this game aid, please consider
regularly supporting the EOG
. Your generosity means I can keep making great gaming stuff that improves your tabletop game experiences.
Thank you!