Horrific monsters and spectral presences lurk in manors, crypts, schools, monasteries, and derelict buildings near Arkham, Massachusetts.
If you love creating a story as you play a boardgame, if you enjoy the Arkham Horror boardgame, if you're a fan of the stories of H. P. Lovecraft—Mansions of Madness is right up your alley. It would seem Fantasy Flight Games created it with the express purpose of making a game as closely based on the unique atmosphere on Lovecraft's Cthulhu mythos as possible. Arkham Horror is a great favourite of gamers worldwide, but it's generally accepted that it doesn't quite capture the feel of Lovecraft's work—there's a big emphasis on combat, for example, and not as much on stories of investigation and creeping horror.
So exceptional FFG game designer Corey Konieczka, creator of such modern boardgame classics as Battlestar Galactica, Runewars, Starcraft and Tide of Iron, created a game that is unabashedly all about an immersive story and atmosphere.
One of the players is the Keeper, a sort of roleplaying Gamemaster who controls the story; the other players are investigators (you'll recognise some of the characters from Arkham Horror) trying to solve the scenario. Different Objective cards, different scenarios, and unique board tile setups, mean there is a huge amount of replayability.
Players choose from eight investigators in their attempt to oppose the Keeper player and stop him from completing his story objective. The gameplay is modified depending on the number of investigators, so the game scales well from 2-5 players. Investigators have three stats on their card: Health (how much damage he or she can take before being killed), Sanity (how much horror he or she can witness before going insane), and a starting number of Skill Points. Seven other attributes—Strength, Marksmanship, Dexterity, Intellect, Willpower, Lore and Luck are chosen by choosing from the investigator's Trait cards, which also detail various special abilities. These attributes will be used during the game when you are asked to perform an attribute test, and you can spend Skill Point tokens to improve your chances of succeeding.
During each turn, an investigator may take two Movement steps and one Action step. You may have to unlock doors that the Keeper has placed in your way, and explore room locations in an attempt to discover items, spells, and most importantly, clues. When you explore, all the cards in the room are flipped over and resolved one at a time.
Monsters are divided into the Beast, Eldritch and Humanoid categories, each of which has a specific Combat card deck.
Clues are placed around the game board by the Keeper at the start of the game, and guide the players towards their ultimate objective; each clue leading them to the next, following the narrative thread and slowly building up to the game's climax—which may or may not be combat-focused, depending on the scenario.
On the Keeper's turn, the Keeper player stocks up on Threat tokens, which he can later spend to activate Keeper Action cards to play all kinds of nasty tricks on the investigator players. Some cards allow him to draw Mythos and Trauma cards, and some allow him to add Minions and environmental effects to the game. The Keeper receives a set number of scenario-appropriate Action cards, and he can spend Threat to activate them over and over during the game. Similarly, the story dictates the Mythos cards that are available; these are played during the investigator's turn but must be discarded once played.
The Keeper also has an Event deck which acts as a 'timer' for the scenario; as cards are flipped from this deck the plot thickens and things may get more and more difficult for the investigators.
If an investigator is occupying a space with a monster in it during the Keeper's turn, it may attack. Combat is dangerous and sometimes unavoidable, but luckily investigators can use the surrounding environment to barricade doors against opponents, or possibly hide and avoid conflict altogether. Of course, monsters can also drain your Sanity, and if you fail a Horror check you lose 1 Sanity and may become a target for the Keeper's Trauma cards.
If you fail to evade a monster, there's always the deadly option of engaging it in combat. Monsters are divided into the Beast, Eldritch and Humanoid categories, each of which has a specific Combat card deck. Combined with dice rolls, these cards give an exciting narritive feel to combat, describing in detail what happens when a monster is attacking or being attacked.
There's also an ingenious and original system of representing 'intellectual challenges', in the form of puzzle tiles. The investigator receives a number of actions equal to his Intellect attribute to swap, rotate or discard pieces in order to solve an actual puzzle—rewiring a circuit, or picking a lock, for example.
Of course, this is a Fantasy Flight game, so the components are top-notch: 24 highly detailed monster figures and 8 investigator figures, over 300 cards, over 200 tokens, nearly 70 puzzle tiles, and 15 beautifully illustrated map tiles that make up the playing area. Lots of additional scenarios, some available as 'print on demand' supplements, are also available.
This rules summary and reference includes the rules from the Forbidden Alchemy and Call of the Wild expansions.
You've bought the game and braved the dark corridors of the
Mansions of Madness
; you've solved challenging puzzles and tracked down hidden clues—you've even confronted the most horrific eldritch creatures and survived with body and mind intact! But have you faced the ultimate challenge..?
Have you—painted the miniatures?
Painting the miniatures in your brand new shiny (or slimy, in this case) copy of Mansions of Madness may seem a daunting task from which only the most experienced and skilled will survive with sanity intact, but I am here as testament to the fact that it is actually not that difficult! In fact, I managed to paint the entire set of 32 investigator and monster figures in the space of one weekend and two short evening sessions. So ready your workspace, clutch for your brushes, and let me pass on the wisdom of one who has been to the Other World … and returned to tell the tale …
I won't be covering the basics of painting miniatures here; for that information see my article Figure Painting for Beginners, which covers everything about miniature painting you need to get started: preparing your workspace and figures, shading, highlighting and detailing, basing and varnishing, and various painting styles. Here we'll be looking at my painted set of MoM figures and pointing out some colour choices and techniques. Keep in mind, of course, that these are just my choices and are in no way official—if you want a bright red shoggoth, you go right ahead! This is just the way I painted mine, and there are as many ways to paint miniatures as there are painters. The old Games Workshop paint colours are referred to here, but there are many other excellent brands of paints available, including Vallejo GameColor, Reaper Master Series Paints and Privateer Press Formula P3. Experiment and have fun!
Remember, prepare your figures by washing them in detergent and water to get rid of any oily residue from the moulding process; cut or file off any obvious mould lines or bits of extra plastic (watch those fingers!), and affix the miniatures to some suitable surface for ease of painting. I use long strips of foamcore to which I stick the figures with white glue. Undercoat as you see fit—I use Citadel Skull White spray. I use a white ceramic bath tile as a palette and it's served me well for years. Completely optional but essential in my case were a couple of rainy days and some excellent BBC History podcasts to occupy the part of the brain you don't use when you paint!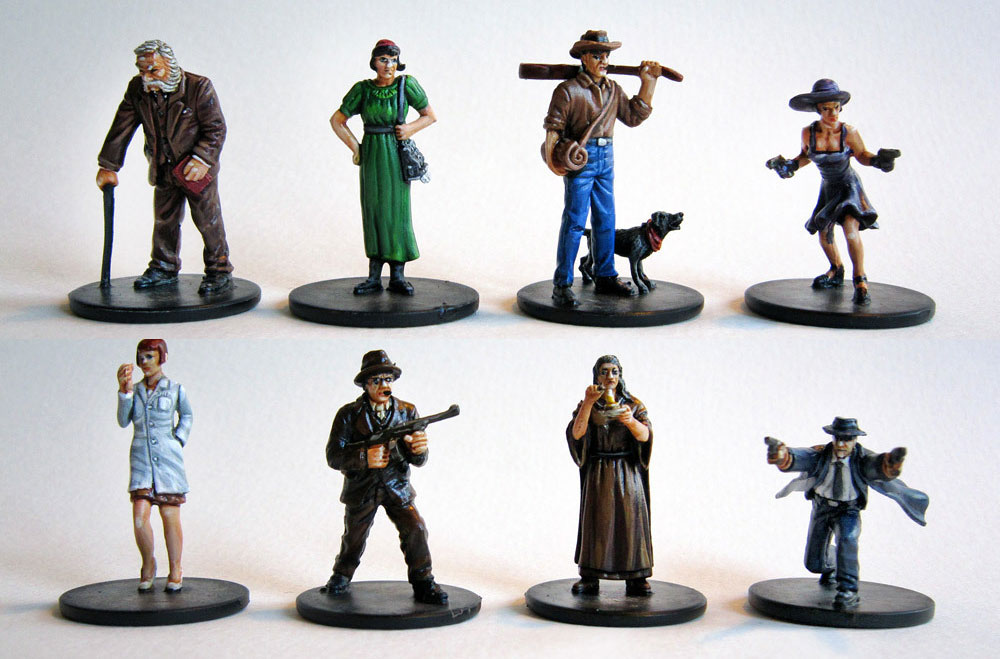 The investigator figures were the most time-consuming step of the project, mainly due to the number of colours involved. The investigator character cards give you a guide for the basic colours used for each figure. In general, I quickly paint on the base colours, let them dry, wash (quite often Devlan Mud, though Gryphonne Sepia for flesh and the appropriate colour for greens and blues), and then highlight; first with the base colour then in progressively lighter shades—perhaps two, with a final edge highlight.
You could use all manner of different shades for the various complexions of these characters, but I tend to stick with a blend of Dwarf Flesh and Elf Flesh for the basic skin tone, washed with Gryphonne Sepia and highlighted with Elf Flesh. The sharpest highlights—the tip of the nose and the knuckles usually—get a tiny spot of white. There are many ways to do eyes, but I don't worry too much about perfection with such small figures. Two small dabs of black, and then two tiny dots of white on either side of the iris—usually with a tiny bit of black to clean up. The hair on these figures is the only place I've used the drybrushing technique; I prefer to highlight manually, but remember to mix water with your colour so it flows nicely from the brush.
For the bases, I made them a bit more interesting than basic black by stippling on a few shades of brown, from dark to light; it just adds a bit of visual texture to the base. However I didn't worry about the monster bases, and in fact only stuck the monsters on their bases with a small dab of white glue, in case for some reason I want to interchange bases later on—for example if I choose to replace some of these figures with sculpts from other companies.
Now, on to the bad guys!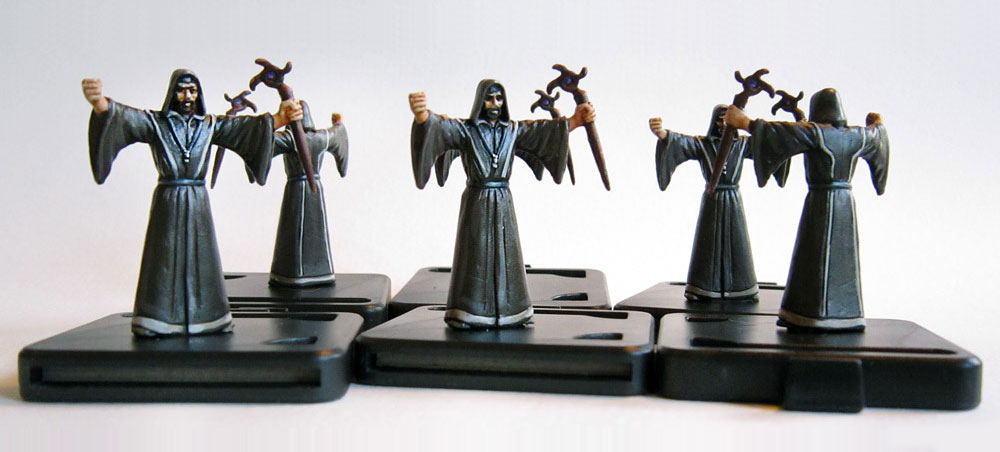 What would a Lovecraftian game be without some twisted degenerate Old One-worshipping cultists? I kept the basic cultists suitably drab with a dark brown cloak—Graveyard Earth mised with a bit of Chaos Black, basically—with a trim of Dheneb Stone (a steady hand and a small brush are required here, though you can touch up later). A few tiny dabs of Mithril Silver were used for their medallions, and a dab of Warlock Purple for the centre gem on their staff thingies.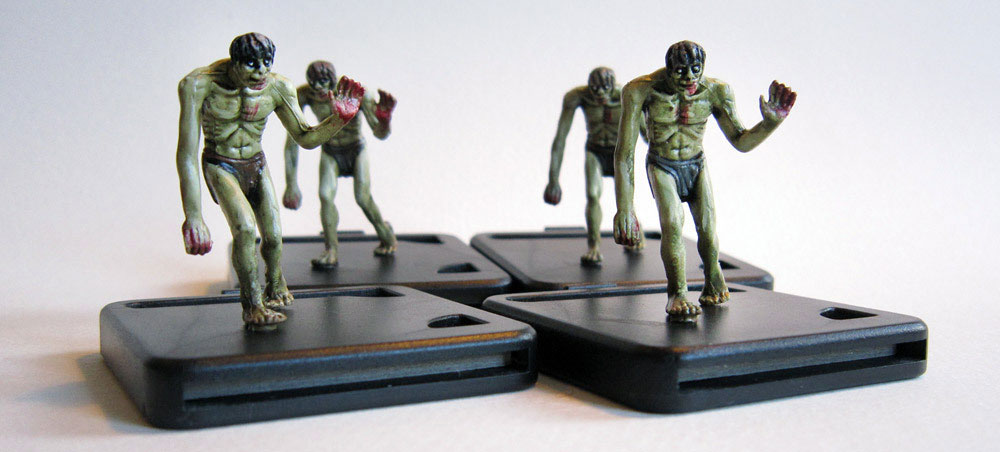 Not the most threatening bunch of zombie figures I've ever seen—they actually looking like they're rather sheepishly saying "hi there"—but they're easy to paint. Slap on some Rotting Flesh, wash with Devlan Mud, and highlight with Rotting Flesh and Skull White. In an attempt to make them a bit more scary I added a bit of Red Gore for blood splatters, plus some appropriately-named Graveyard Earth drybrushed over their feet. Dabs of Skull White for the eyes give them that dead-eye look. This shot also illustrates the importance of good figure preparation—there's a rather obvious mould line on arm of the zombie on the left there which I should have removed before undercoating. Oh well, they're just gaming pieces after all!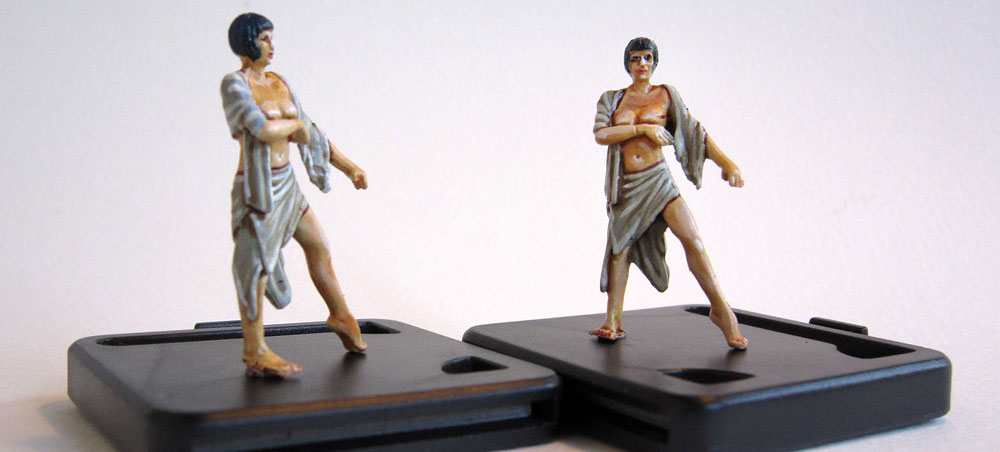 These surprisingly modest evil witches were very easy to paint. A mixture of Dwarf Flesh and Elf Flesh for the basic skin tone, washed with Gryphonne Sepia and highlighted, and Dheneb Stone for the robes, washed with Devlan Mud and highlighted with white. A subtle drybrush of blue on the black hair makes the hair colour seem even darker. Viola! Evil 1920s temptresses!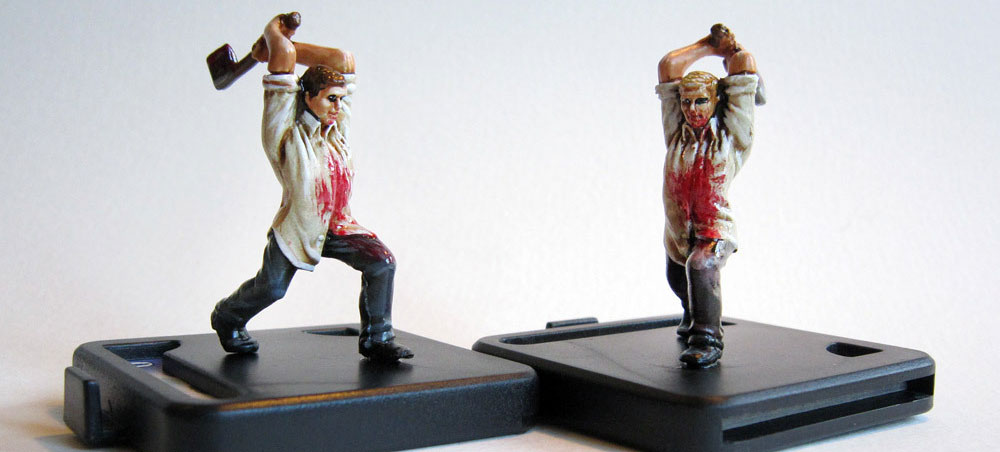 These maniacs are in great poses, though I defy you to get that damn she's a maniac, maniac I know … song from Flashdance out of your head while painting them. Simple white shirts, washed with Devlan Mud (use a brush to soak up any wash that builds up too much on the raised areas or in the crevices—always control your wash!), contrast nicely with an excessive blotch of Red Gore—and don't forget the axes! The stain was made by dabbing on the model with the end of a Games Workshop drybrushing brush, which gives a nice stippling effect.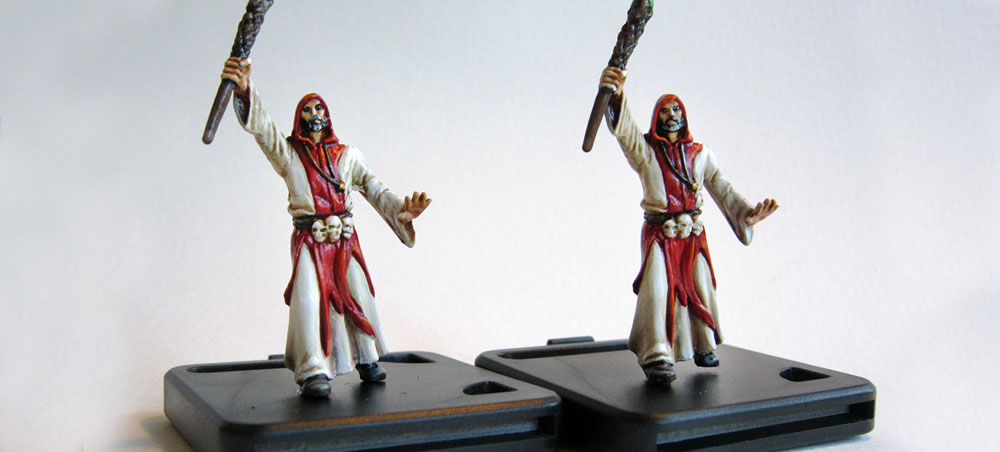 Someone always has to lead your cultists and who better than a cultist leader (or two). This colour scheme was nicked from the BoardgameGeek game listing photographs—always a good place to go for inspiration—and contrasts nicely with your cultist rank-and-file. Again, a simple way to get your whites whiter than white is a Skull White basecoat washed with Devlan Mud, then highlighted back up with white. Easy! The red is Blood Red, highlighted by mixing in a bit of Golden Yellow. The skulls on their belts are Bleached Bone, washed with Devlan Mud and highlighted with Bleached Bone and Skull White. The necklace medallion is Shining Gold—they are richer than your average cultist, after all.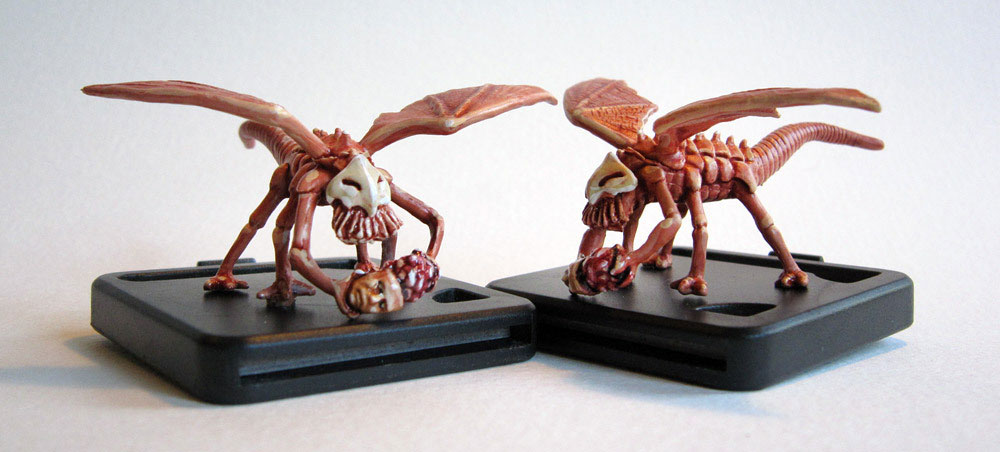 These weird extra-terrestrial critters are Mi-Go, the 'fungi from Yuggoth', one of Lovecraft's weirder creations (and that's saying something). They appear to removing brains—charming—an Elf Flesh washed with Baal Red with sharp highlights of white (though perhaps brains should be grey … oh well!) The Mi-Go themselves are mostly the usual flesh mix with highlights; and I did use a bit of drybrushing on the wings, I remember. The strange masks they wear (not the most effective human disguise really) are painted with Bleached Bone.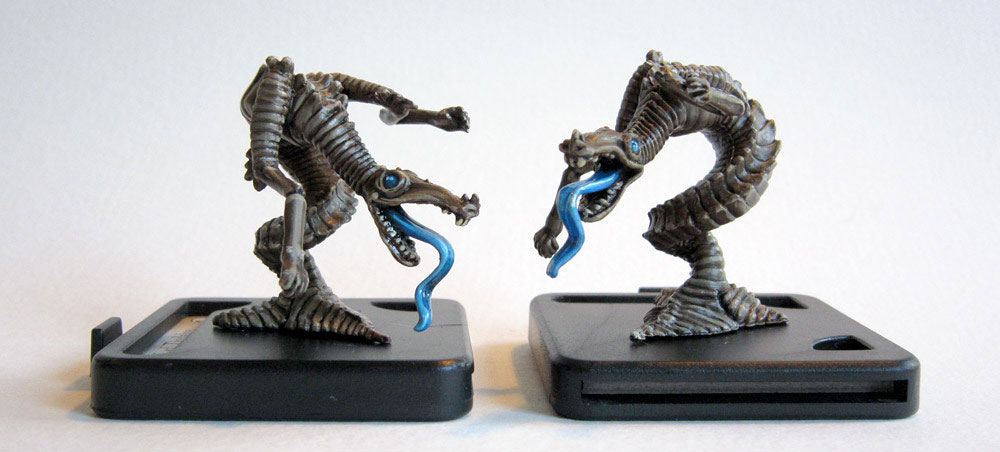 The Hounds of Tindalos are immortal horrors from another angle in space, created by Frank Belknap Long, though Lovecraft mentions them in his story The Whisperer in Darkness. The base colour used is Graveyard Earth, with a wash of Devlan Mud, highlighted up to Bleached Bone. The long tongue and eye are a wonderfully contrasting Enchanted Blue, highlighted with Ice Blue and white.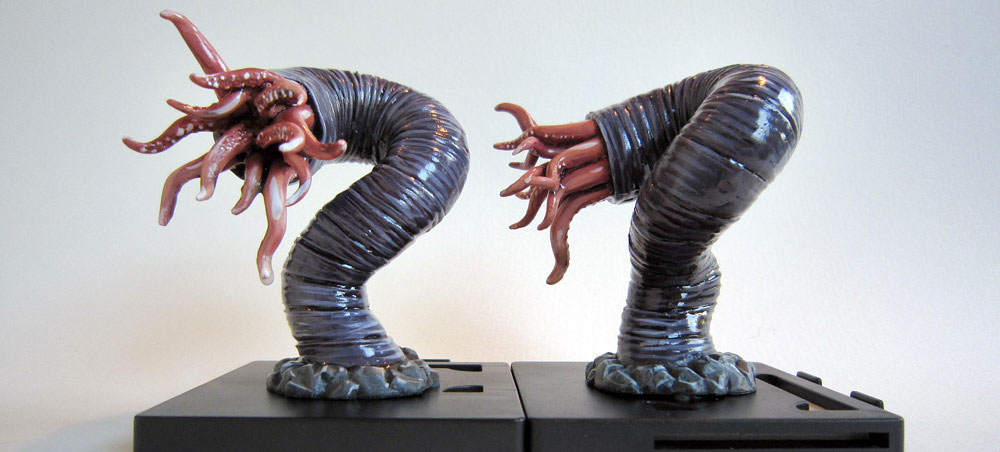 Again, these truly repulsive burrowing giant worm-like beasties were not actually invented by H.P. Lovecraft, but in this case Brian Lumley. The body is a mix of black and Hormagaunt Purple, the tentacles a suitably fleshy Dwarf Flesh. Reliable old Devlan Mud was used as a wash for the body, a bit of Baal Red wash for the tentacles, then highlights layered on— white added to the purple for the body, and Elf Flesh, then white, for the tentacles, right up to some big white highlights. Tiny white dots highlight the suckers. Urgh! The stone base was a simple grey up to white. Lots and lots of Gloss Varnish was used to make them nice and slimy; in fact the model on the left has a little clear blob hanging from the bottom tentacle. It's details like that that make it all worthwhile …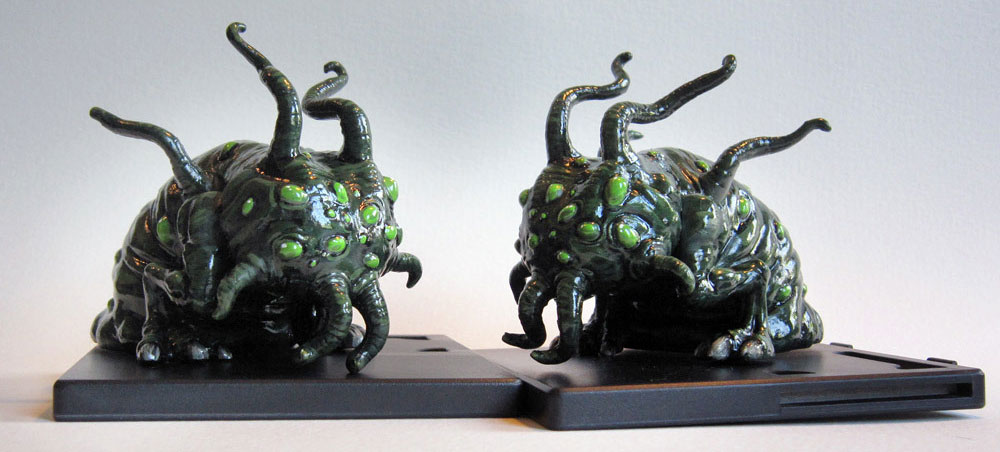 And finally, the big bad shoggoths; shapeless congeries of protoplasmic bubbles, faintly self-luminous, and with myriads of temporary eyes forming and un-forming as pustules of greenish light all over the tunnel-filling front that bore down upon us … Lovecraft would have been horrified to see his shoggoths given legs, and some gamers have chosen to pop them off and use 'green stuff' to putty over the gaps, but Lovecraftian accuracy doesn't bother me so much. I used a mix of various greens and Chaos Black to get a very dark green basecoat, then highlighted up using smooth, thin strokes of various lighter shades of green. Mix in plenty of water with your paint to get a good flow from the brush, and loosen up a little; you can even use progressively smaller brushes. I kept the overall colour quite dark to contrast with the luminous eyes, which are Goblin Green with a highlight of Scorpion Green (I painted both on wet so the colours swirled together a bit) with a final dot or two of white. A generous coat of Gloss Varnish is de rigeur for your Lovecraftian protoplasmic horrors.
I hope this little journey through the miniatures of Mansions of Madness has not sent you gibbering and screaming into the black night. Hold on tight to that brush, it may be your last link with reality as we know it … and happy painting …
There are a lot of little counters and a lot of relatively fragile miniatures in
Mansions of Madness
, so it's a perfect candidate for the custom foamcore insert treatment. The following photograph should get you started on creating your own. Note the two removable counter trays. The card tray on the right doesn't leave enough space for fingers to get to the smaller cards, so I made a removable 'X'-shaped piece that keeps them in line.